TVNHS Conducts Fire Safety and Prevention Seminar
In line with Proclamation No. 115-A and Proclamation 360 s. 1986, Tropical Village National High School conducted a seminar entitled "Fire Safety and Prevention Month Seminar, Sa pag-iwas sa sunog Hindi ka nag-iisa" that was attended by selected Tropicalian learners on April 25, 2023, at the Audio-visual Room of TVNHS. The said event happened under the headship of Dr. Mark Airon P. Creus, Principal IV, together with Mr. Jomar A. Liveta, SDRRM Coordinator, and Mr. Jeffrey Rodil, SIC Coordinator.
The school recognized the role of the Bureau of Fire Protection and the Barangay San Francisco Fire and Disaster Rescue Team. The goals of the event were as follows: Enhance the knowledge of students about preventing fire incidents so that students can also understand the importance of fire prevention and instill the importance of unity.
The ceremony kicked off with a warm welcome from Mrs. Susan C. Sibulo, OIC-Department Head, followed by the message delivered by Mrs. Mariglo S. Bayot, Head Teacher III, then a statement of purpose from Mr. Jomar A. Liveta, SDRRM Coordinator, and the presentation of the participants was facilitated by Ms. Irene M. Dulay, Teacher III. Ms. Reginee Reforma enthusiastically introduced the guest speaker, SFVO1 Kevin Trinidad. SFVO1 Kevin Trinidad shared his extensive knowledge about preventing fire, avoiding fire, and using fire extinguishers properly.
"If we are using fire extinguishers, we are going to use the word TPASS. T for the twist, P for pulling the pin, A for aiming the nozzle at the base of the fire, S for the squeeze lever, and the last S stands for sweeping the nozzle side to side until the fire is out. TPASS can also help us gain knowledge about using fire extinguishers." SFVO1 Kevin Trinidad of Barangay San Francisco FDRT.
– Johnzen Sagun
Brgy. San Fransisco Fire and Disaster Rescue Team demonstrates proper use of fire extinguisher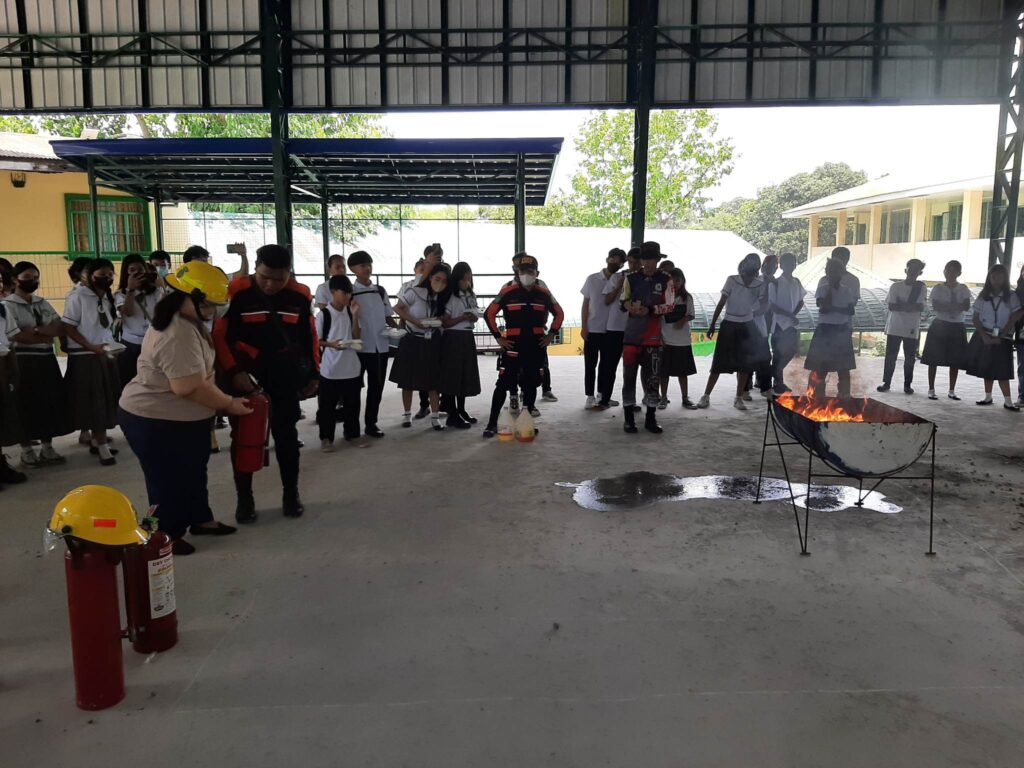 Please follow and like us: