July 27
Our sincere appreciation to Boysen- Atlantic Coatings Incorporated- Cavite for donating six (6) boxes of Boysen paints.
July 27
Our sincere appreciation to Ushio Phil., Inc. , through Engr. Mark Joseph Magsino for Palochina woods.
July 26
Mr. Jorge Cudal of HCG (Hocheng Philippines Corporation) conducts an ocular visit to inspect the possible school comfort rooms that are in need of toilet bowls and lavatories.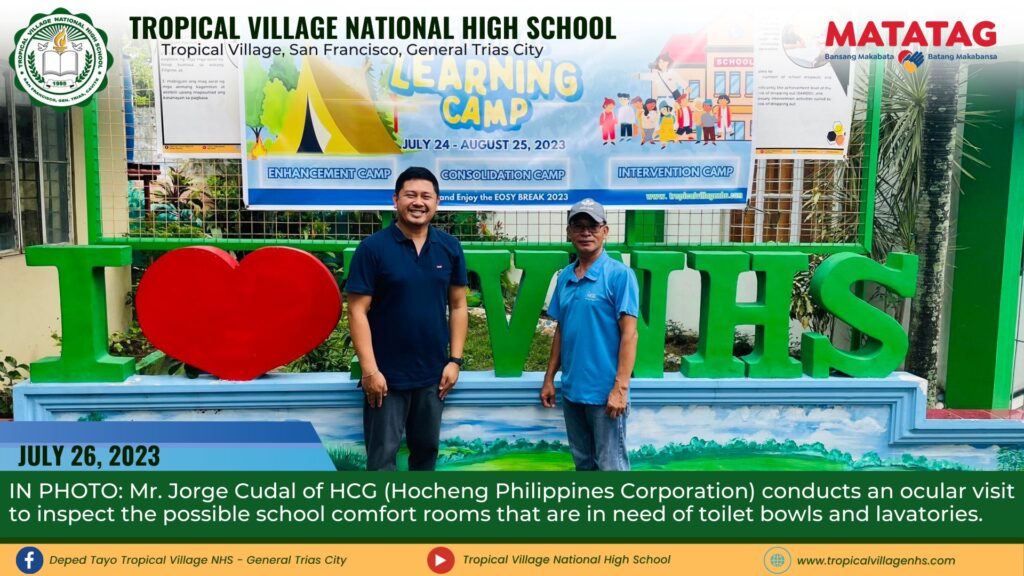 July 21
TVNHS takes part in Capacity Building on the National Learning Camp 2023
On July 18-20, 2023, 19 teachers from Tropical Village National High School attended a Capacity Building on the upcoming National Learning Camp. This 3-day capacity building was planned and organized by SDO General Trias City in the leadership of Dr. Daisy Z. Miranda, Schools Division Superintendent.
July 17
In line with D.O. No. 44, s. 2010, R.A. 9155, D.O. No. 32, s. 2017, and Division Memorandum No. 461, s. 2020, Tropical Village National High School conducted a Program Implementation Review and Strategic Planning of GAD Programs, Projects, and Activities (PPAs) on July 14, 2023, at the Multi-Purpose Room, which was attended by all teaching and non-teaching personnel of the school.
July 13
Tropical Village National High School conducted parent orientation on the upcoming National Learning Camp earlier today, July 13.
July 13
Tropical Village National High School held its 8th Moving Up ceremony with the theme Gradweyt ng K to 12: Hinubog ng matatag na Edukasyon (K to 12 Graduates: Molded through a Resilient Educational Foundation), on July 12.
July 13
96 Tropicalian Learners, Selected Teachers Receive Awards on Recognition Day
Ninety-six Tropicalian learners from Grade 7 up to Grade 9 level and selected teachers were recognized during the Recognition Day on July 12.
July 11
Dr. Mark Airon P. Creus, Principal IV, holds a meeting with the OIC-Department heads, Master Teachers, Project Proponents and selected teachers to discuss the upcoming Program Implementation Review as well as the conduct of National Learning Camp.
July 7
TVNHS teachers receive their communication allowance from the Local Government Unit of General Trias City.
Our deepest thanks and gratitude to our LGU especially to our Hon. Mayor, Luis "Jon-Jon" A. Ferrer IV, together with the support of Hon. City Vice Mayor, Jonas Glyn P. Labuguen, and the rest of the City Councilors.
July 6
On July 5, DPWH-Cavite personnel inspected the newly reconstructed school-covered court prior to its official turnover.
July 6
Mr. Joey M. Dolindo, a teacher from Santiago Integrated National High School, wholeheartedly shares his expertise in the Automated Compilation and Computation of Electronic Systematized School Forms earlier today, July 6.
July 6
Project SAGIP CONNECT Ends With Recollection and Moving Up Ceremony
"Patuloy nating sagipin at yakapin ang bawat bata natin." Dr. Mark Airon P. Creus
To recognize learners who successfully completed all the necessary requirements during the intervention project despite their present situation, as well as to have a better understanding of who they are and to discover God's presence in their lives, Tropical Village National High School conducted a culminating activity and moving up ceremony on Project SAGIP CONNECT on July 5.
July 4
As the school year 2022-2023 draws to an end, Dr. Mark Airon P. Creus, School Head, leads a faculty meeting to discuss Moving Up and Recognition Rites, National Learning Camp, Program Implementation Review, IPCRF, Brigada Eskwela, and other school concerns.
July 4
Tropical Village NHS conducted the Musabaqah Culminating Activity cum Moving Up Ceremony led by the Madrasah Education Program Asatidz in collaboration with AP department earlier today, July 4.
Please follow and like us: