September 25
Mrs. Francisca V. Recare, Teacher III, shares food for thought to Tropicalian learners during the flag raising ceremony.
September 25
TVNHS joins the nation in celebrating the 31st National Family Week as Dr. Mark Airon P. Creus, Principal IV, announces one of its activities which is the "Kainang Pamilya Mahalaga Day" during the flag raising ceremony.
September 24
TVNHS held its First Quarter School Monitoring, Evaluation, and Adjustment (SMEA) for School Year 2023-2024 on September 21, 2023, in accordance with D.O No. 44, Section 2010 and Division Memorandum 461, Section 2020 and was attended by selected Tropicalian teaching and non-teaching personnel, stakeholders, SPTA Officers, Youth Leaders, Mr. Arnaldo O. Estareja, EPS in Filipino, Mr. Albin A. Cadimas, Principal IV of TVES, Mr. Ruperto R. De Borja, Principal IV of SBES together with their selected teachers.
September 23
Dr. Mark Airon P. Creus, Principal IV, facilitates the oath-taking ceremony of the newly elected School Parent- Teacher Association officers during the 1st Quarter SMEA.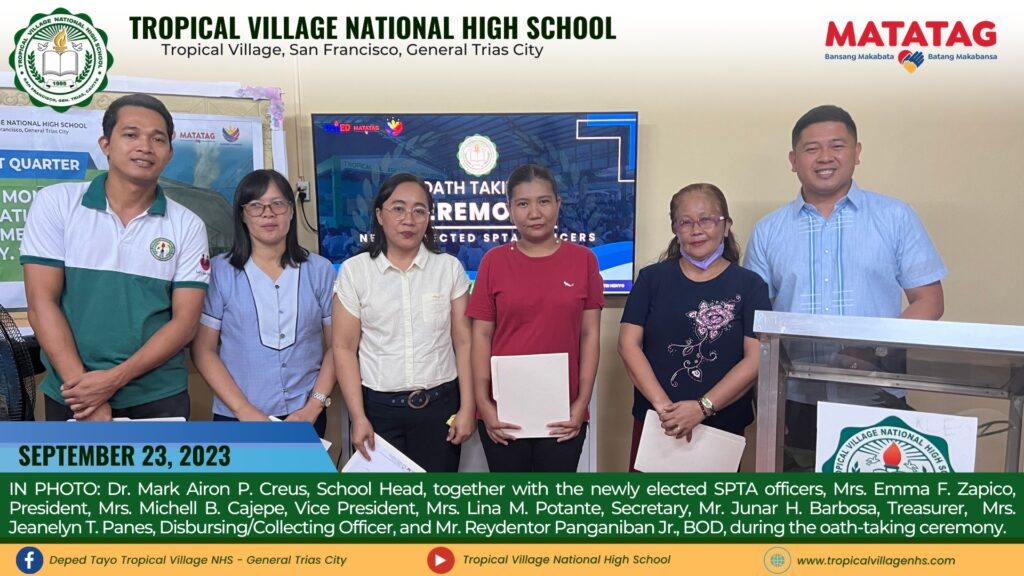 September 22
After the homeroom and grade level PTA election, the elected GPTA presidents then proceed to the multi-purpose room for the election of School Parent- Teacher Association.
September 22
Classroom advisers conduct election of homeroom PTA. They also orient the parents/guardians on the rules, policies, as well as on the different projects and activities of the school.
September 20
Mrs. Donna L. Lago, EPS-HRDD, Dr. Maureen H. Parot, SEPS-Human Resource Training, and Development, together with Mrs. Mariglo S. Bayot, Head Teacher III, and the TVNHS research presenters during the regional monitoring of the status of the approved BERF research papers.
September 15
Dr. Mark Airon P. Creus, Principal IV, holds the third faculty meeting to discuss important concerns such as Classroom Observation, SPTA election, first quarter SMEA, Teachers' Day celebration, Science month, and other issues that need urgent and appropriate action.
September 13
Mr. Cipriano Dinglasan, SEPS- Human Resource Training and Development, visits the school to provide technical assistance to the focal persons of inclusive education on September 12. He thoroughly explains and discusses the process on how to handle learners with disabilities.
September 12
Wafa Omar, Little Vice Mayor, guided by City Vice Mayor, Hon. Jonas Glyn P. Labuguen, actively participates during the session held in the City Hall of General Trias City on September 11.
September 11
Dr. Mark Airon P. Creus, Principal IV, facilitates a meeting with the Asatidz, Abdullah Macaampao, and Ustadja Sherwida Jawali, along with Mrs. Susan C. Sibulo, Head Teacher I, Mr. Jaymark Doca, Madrasah Education Coordinator, Mrs. Jenilyn S. Loyola, Master Teacher I, and Ms. Jennibeth V. Ilagan, Teacher III, to tackle the upcoming activities, including AERCA, ALIVE classes for non-Muslim learners, as well as the ALIVE classes for Muslim learners.
Please follow and like us: